Unfortunately the first week of my last build cycle has not gone well. For a total of around 7 hours training this week due to catching a slight cold.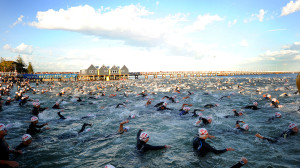 After doing some extensive reading online I decided that it was best to lay off training for a few days to try and recuperate. That said I've tried to get back into the training earlier than what some sites have recommended (taking off as many days after symptoms have disappeared as you were ill). I also decided to go ahead with my 4 hour turbo – mainly because I see the key work outs in the upcoming weeks to be the long slow rides. I woke up at 3:30AM to have breakfast and then got on my turbo watching 2 movies back to back to complete the 4 hour ride. Didn't feel great after that ride and so had a nap later.
I couldn't resist taking my new giro helmet out for another spin the next day and did a short 45 min. ride on Surdirman cooling down with a 15 minute run. Battled with a headache all morning and now only just have got over it.
I'm hoping that i'm fully recovered by tomorrow (or that my usual Monday fast and cleansing will remove the last of this bug) and so that I can have a good 2 week stretch of training before the final taper to the Ironman.
5 Weeks
Swim
Bike
Run
 Totals
Date
Day
Time
Notes
Time
Notes
Time
Notes
4-Nov
Mon
Yes
5-Nov
Tue
90
15
Yes
6-Nov
Wed
60
No (Sick)
7-Nov
Thu
30
30
No (Sick)
8-Nov
Fri
No (Sick)
9-Nov
Sat
60
 No Swim
240
Only Turbo
Yes/
10-Nov
Sun
135
Biked 45Mins/ Run 15mins
Yes/