On December 8th, 2013 I completed my first Ironman at Ironman Western Australia in Busselton in 13 hours 2 minutes. The following is a detailed race report on the entire experience covering pre-race packing and preparation, a day-by-day log of activities, nutrition and packing tips and thank yous to the people who helped make this unforgettable experience possible.

Race Week:
My race week taper included more than just reduced training but also sleeping earlier and adjusting all my toilet routines to that of race day. Hence starting with my usual Monday fast I started waking up at 3AM and eating my dinner around 4/5PM. (I also had to adjust for the 1 hour time difference between Jakarta and Western Australia). With the hard work now done to quote my MBA classmate and also fellow Ironman Geoff "Now wrap yourself in cotton wool and be ready for race day" I did my best to ensure that I slept well, ate well and avoided anyone who looked remotely sick! However to my horror, during taper week I began to *feel* strange aches and pains in my legs just from walking around! I then made sure that I wore my trainers everywhere, bought a roll of KT tape and taped up my knees and wore compression socks too. Later my Ironman high school friend Ross explained this was part of the normal pre-race nerves "creating" fictitious aches!
The week rolled by and I managed to avoid any nasty bugs but also made sure I drank airborne and additional vitamin C each day. Now I just had to make sure I didn't miss anything out from the extensive packing list I had found online and that my bike Z3D was on absolutely top form for the race!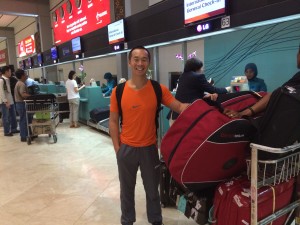 Equipment and packing:
Z3D was stripped down by a bike mechanic and both tubes changed (wasn't taking any risks with a flat). I practiced changing the tires a few times and also used a couple of CO2 cartridges to inflate the tires to check that I knew how to use them well. I did pack an extra road bike front wheel as I had heard reports of strong gusty winds just in case I had to swap out my HED Jet 6". – TIP make sure you've double checked the weight allowance on your ticket because all airlines are different! Fortunately for me Garuda provided extra allowance for sports equipment – up to 23KGs so I was fine. My friend Ross however making the trip from the UK was told he would be charged excess baggage for his totaling over US$1,000! Which resulted in him leaving his bike and picking up a rental for race day!
Tip! The last thing you need is to be hunting around for things you forgot. Make sure you tick off all your items against a packing list 2 days before so that you have time to pick up anything you don't have. Check out the packing list I used Ironman Checklists
Arrival:
We arrived in Perth on Thursday and drove down to Busselton on the same day. Online, Hertz had the best rates and we got upgraded to a Kluger (from a Rav 4) ensuring we had plenty of space in the car for both my buddy Tevis' bike and mine. The drive down to Busselton took about 3 hours due to the evening rush hour traffic but it was an easy and pleasant drive and so we arrived at our hotel Abbey beach Resort around 8PM that evening. The hotel was about 10 minutes drive from the race start and was a very spacious serviced apartment. However no wifi made it a little frustrating to stay in touch (which may be a good thing to help focus on the race preparations!). There did not appear to be a lot of accommodation options at Busselton and there was no official race hotel. However Abbey was affordable and with a 2 bedroom serviced apartment there was plenty of room and we could cook our last few meals in the kitchen. Overall I was quite satisfied with this choice. I did see a small hotel actually on the race course itself called Esplanade hotel – this could have been a little more convenient on race day however the rooms are likely to be much smaller I think.
Friday: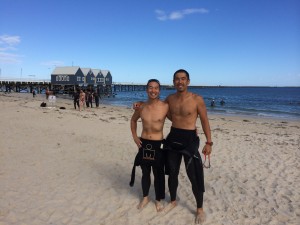 We were up bright and early on Friday at around 5AM (the plan was to wake up an hour earlier each day before the race). There was a swim practice on at the Jetty from 6AM – 8AM so around 7:30AM we headed off. However, by the time we arrived they said they were closing the practice! We realized soon after that we could still swim "at our own risk" – fair enough, and as there were still a few people in the sea we went off for a quick 15 minute swim. The sea was surprisingly unclear perhaps due to the wind but getting a few strokes in was a good confidence booster.
Something we didn't anticipate and had not heard about were the flies! Dec- January is apparently fly season and literally there are dozens of flies buzzing around you wherever you are! Try and get a fly net for your head to make walking around more pleasant!
We then headed over to check in – a relatively straightforward and smooth process – Check! Straight on over then to the Ironman expo where I ended up picking up a CO2 bolt, additional mini bag (into which I put inner tubes and tools) and finally some IM stash including an IMWA branded visor. (I'd recently learned from Macca's biography that visors allowed more heat escape during hot IMs so decided to pick one up.)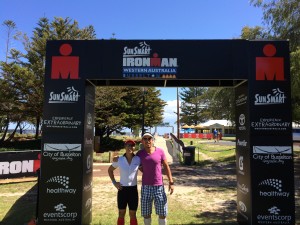 Finally we rounded the day off with a quick cycle (40 mins) and a 10 minute run to keep the legs loose and double check that all was functioning on the bike. On the ride we had our first real taste of the 25-30KMH winds we heard about. However I didn't experience anything that would threaten to blow me off the bike so I stuck to my HED JET 6/9 combination for the wheels. As evening approached it was off to the race briefing for IMWA's 10th anniversary welcome dinner. On the way over we bumped into Chris Huang a seasoned ultra marathoner and 2nd time Ironman – like Ross he also described his "gastric shutdown" on his first IM experience adding to my fears of an under practiced nutrition strategy for race day so make sure you don't make my mistake of forgetting about nutrition plans! Fortunately everything turned out okay for me – and you'll see a detailed breakdown of what I did later.
The welcome dinner was a standard pre-IM feast of pasta, bread and fruits. After this we were treated to some well prepared videos of the history of the IMWA ironman, speeches including an interview of Andreas Raleart – all good fun except it took over 3 hours! Not ideal pre-race preparation. The race briefing didn't happen till the end so as soon as the course descriptions were done we snuck out to get the Zzzs we surely needed.
Tip! despite being blistering hot during the day the temperature drops as soon as the sun goes down so make sure if you're still out in the evening to bring a tracksuit top. Also – my personal opinion is that the welcome dinners are not worth the AUD30+ they were charging for the non-competitors. So tell any supporters with you to dine in town while you attend the welcome dinner and briefing.
Nutrition Strategy:
Nutrition was a part of my overall strategy that I had severely over looked during training. However after some last minute research I came up with something that seemed to work well for me as:
I had no stomach upsets during the race
Relied mostly on my own carried nutrition vs. picking anything up at the course
Suffered no cramping.
As described later I attribute my mini "bonk" on the run to my inability to eat my planned breakfast on the day because of feeling nauseous. Depending on the time you take to race (I was targeting 13-14 hours) you'll be burning about 9,000 – 10,000 calories (35 cheese burgers!). That's what you may typically burn over 4 days without exercise! So making sure that you are properly fueled throughout the race is a major concern! My strategy was as follows: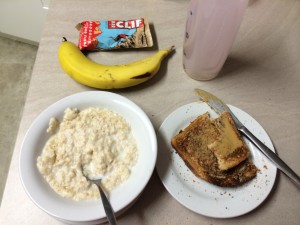 Breakfast: (~1,000 Cal): peanut butter sandwich (2 slices of bread), 1 banana, 1 instant oat porridge, 1 sports drink 500ml (accelerade – which is a protein/carb drink)
Pre-race: (~300 Cal): 1 cliff bar & Gu tab. electrolyte drink (500ml)
Bike: (2,800 Cal): bottles of concentrated electrolyte & sports (accelerade) drink (approx. 4 spoonfuls of powder ea. scoop 120 Cal), 8 Gu gels (100 Cal each), 2 cliff bars, salt tabs
Run: (1,200 Cal) 2 small bottles of water mixed with 4 Gu's each (fruit flavored) and 4 chocolate caffeine Gu's.
During the bike I started out with a bottle of water in addition to my 3 Accelerade bottles. I drank only water for the first 20 mins to rehydrate from the swim and settle my stomach after which I dumped the remaining half bottle to reduce weight. Then every 10 minutes (I set the alarm on my watch at these intervals) I would take about 3 sips of Accelerade planning to finish half a bottle of the Accelerade every hour. I also ate 1 Gu just as I hit 20 minutes (remember to always take Gu with water) and then another at every half hour. I ate my cliff bars on the hours 3-4 and then the second at hours 5-6 finishing my last Gu on the home stretch of the bike.
Tip! for items like Cliff bars take off the wrapper and cut into 1/4 sections to access and eat easily while on the move. I didn't do this and it was a pain to bite off the wrapper and get equal sizes in my mouth.
During the run again I sipped my Gu mixed drink every 10 minutes and planned on 1 caffeine chocolate Gu each hour. I employed a run/walk strategy between aid stations which allowed me to take a few sips of water every 2.5KM at the aid stations.
Saturday:
After a good night's sleep we practiced waking up at 4AM but then went back to sleep to get the extra hours in – knowing that we'd likely be restless the night before the race. We spent some time in the morning stretching and carefully packing our race bags. We had lunch at 11AM – home cooked spaghetti bolognese and dinner at 4pm (smaller bowl of the same) – be sure to reduce food intake as you get closer to the race. The biggest meal should be 2 nights before and then gradually reducing portion sizes. The day prior to the event I also like to check out the bike leg of the course so we drove the car on a single loop noting down points of interest, hills etc. Finally once we were all checked in and back home we settled down to watch a video of Kona IM 2009 where both Chrissie and Craig put on stellar Ironman performances to help with our mental preparation.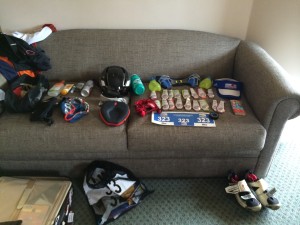 Run & Bike Bags:
Full IM transitions seem to operate a little differently to other triathlons. All your run and bike gear is checked in the day before and hung on railings which you pick up as you run into transition. Transition itself is in a large tent where you have a helper and also a chair to get everything on. Nothing gets left in the bike transition area – unlike in shorter distances where you leave everything you need in the morning next to your bike. This led for a much more orderly transition. That said, you must be well prepared with each of the bags as only your bike bag is available in T1 and only your run bag is available in T2. Below you'll see the contents of my bags laid out – this was a pretty complete list here so you can check your list against what you see.
Tip! when you need to dig really deep on the run try bringing something that can help motivate you to keep going. You're not allowed any electronic equipment but anything small that is light and fits in your run bag could be a valuable mental booster when you are hurting! I brought two small laminated photos of my wife and son with some encouraging words on them – they came in hand at KM 32 as I set out on my last loop!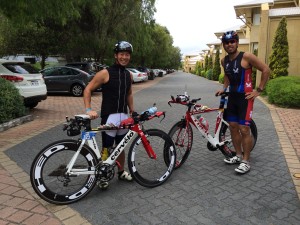 Next – Race Day!