Just two more – yes 2 more weeks!! and completed my last big build cycle before tapering down to the Busselton Ironman. The key sessions of the week were my 5 hour bike ride on Saturday and then the 3 hour run on Sunday. Unfortunately a 90 minute swim to complete the tri was missed. However a 75 minute swim earlier in the week in my wet suit served as a good confidence booster. That + the salt water buoyancy should give me a good boost on the day.
The 5 hour bike ride on Saturday was a new first – clocking 141KM and a faster 2nd split. They've put a lot of new speed bumps at BSD especially at Icon making the loops there totally unattractive. However a new extended outer loop makes almost at 30KM loop. Based on my bike i think I should still be able to make an avg. 30KM/H on the cycle leg putting me at an estimated 6Hr bike.
My 1KM post ride run on the day felt good and I felt strong on a 6:30-7 minute pace for the real deal.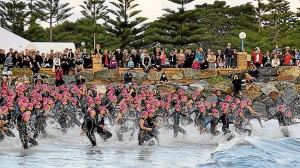 On Sunday I did a late morning 26KM run for 2 hours 57 minutes. A couple of loops of sudirman on CFD – this run was again a good confidence booster I also decided to run in my Mizunos and despite lower water drainage capacity i feel that they are the right shoes for the day.
Now for the remaining 2 weeks its time to taper and make sure i'm fully glycogened up and rested for the race – it's now the final count down!!
| | | | | | | | | |
| --- | --- | --- | --- | --- | --- | --- | --- | --- |
| Date | Day | Time | Notes | Time | Notes | Time | Notes | |
| 18-Nov | Mon | | | | | | | |
| 19-Nov | Tue | 60 | 75 Mins Swim | | | | | |
| 20-Nov | Wed | | | 90 | | | | |
| 21-Nov | Thu | 30 | | | | | | |
| 22-Nov | Fri | | | | | 45 | | |
| 23-Nov | Sat |  90 | No Swim | 300 | | | | |
| 24-Nov | Sun | | | | | 180 | | |
| Totals | | 90 | | 390 | | 225 | |  11.75 |