Ironman 70.3 2013 Cebu Race Report: Part 1
August 4th, 2013
Summary: This post details my experience at Ironman 70.3 Cebu, Philippines, August 4th 2013. It is intended both as a diary of my experience and also to help provide triathletes an overview of this fantastic South East Asia race.
The last 6 weeks prior to Cebu 70.3 Ironman were not optimal for training as my wife and I had our first child. This resulted in lower volume and intensity training than planned and so I entered the race unsure of how I would perform. However a resulting 5 hour 35 minute finish time ultimately served as a great confidence booster for my year end Ironman Western Australia attempt and helped remind me that it IS certainly possible to train for an Ironman and maintain a semblance of a normal life! (You can see my week by week training plans here
Arrival, Hotels, Briefings:
I decided to arrive at Cebu on Thursday – two and a half days before the race. While I was flying from Jakarta and only 1 hour time difference I felt that having an extra couple of days to deal with any technical issues and also allowing for plentiful time to review the course would be beneficial.
We stayed at the Movenpick hotel which was not originally an officially sanctioned race hotel (despite being 5 minutes walk from Shangrila Mactan – the official race venue) but was upgraded as soon as the Shangrila was full. A word of advice here for future participants would be to book a room at this hotel early in advance as once it became an official hotel it was much more expensive.
We booked a 2 bedroom suite for the 3 participants (Tevis Ong, Casey Au and Adrian Li) which was very good value. We had a sea view from which we could see the swim course for the triathlon.
Arriving two days before turned out to be a good move. Tevis's bike unfortunately had a damaged rear drop out from the plane and hence had to go on the hunt for a spare part. Also – the entire Ironman event at Cebu is like a show and the pasta party on Thursday night was complete with fire dancers, singers and celebrities.
With the Pro's
The fun did not stop there. On Saturday the race briefing featured Pete Jacobs giving us advice on how to deal with the heat (although that turned out to not be a problem at all!). During an introduction to the Pro's Black Eyed Peas Ap.le.dee appeared as the "secret" competitor and sang for everyone and the National weather man provided the weather outlook. During the entire pre-race the event was very professionally organised and provided a very family friendly atmosphere for all the participants.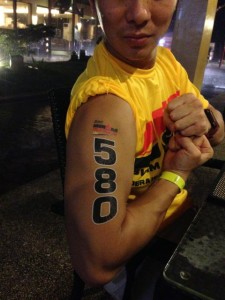 Meeting Fred, CEO of Alaska Milk and Sunrise Events – what started as a hobby (triathlon) has now also turned into a full blown triathlon company – Well Done Fred! Even Race Numbers were temporary tatoos vs. the usual permanent marker!
The race however would not be without its surprises. On Saturday morning we woke to a full blown typhoon storm. In what was later described as a "localised thunderstorm" we experienced a gale force winds, horizontal rain and lightening. It seemed like the much feared heat of the Cebu 70.3 would be the last of our concerns! During the race briefing the national weather man gave us the run down: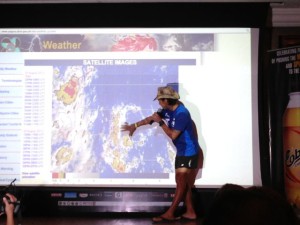 The forecast was for more rain – with strong cross winds and perhaps some sun by noon. Suddenly everyone's concerns about heat stroke and overheating vanished and were replaced with the prospect of battling cross winds and slippery roads (not to mention sea swells on the swim). The good news however was that the race would go on and that currently cancelling any part of the race were not on the plans.
After the race briefing we were stranded at the hotel as torrential rain continued to batter the hotel. We managed to find some black bin bags to cover ourselves as we walked back to the hotel. That night we ate early at around 6PM and were all in bed by 9 thinking about what the weather would bring the next day. With alarms set for 4:30AM and all our gear laid out and bikes checked we were as ready as we could be for the big day. Next up – Cebu 70.3 Race Day Report!